You might have noticed that if You use internet on Windows 10 & 8, Your internet speed go down. The reason for this culmination is Updating Apps From Microsoft Store or the update of your Window into new versions automatically. It reduces your internet connection speed, and You might not be able to use the internet excellently. Metered connection helps you to increase your internet speed.
For Example, If you have taken 4 Mbps internet connection speed plan from Your ISP ( Internet Service Provider ), then it may decrease into 1 or 2 Mbps Speed, and You can't be able to use the full internet connection speed. Besides Connection Speed, it also conquers your Internet data which means a lot to you, and everyone wants to save its data to use in subsequently with needs. Some Apps operate in the background and waste your bunch of Data.
While On the Old version of Windows, this won't happen because there is no Microsoft Store in Windows 7 or and Old versions of Microsoft Windows. This problem only occurs in Windows 8 or 10 and Above versions. So if You are currently on Windows 7 or Old version, then this article is not for you. In this Article, I am going to aware you about metered connection Feature in Windows 10 or 8.
Also Read: HOW TO DOWNLOAD FILES MANUALLY BY URL USING IDM?
Metered Connection
By using the metered connection, It will suspend all the apps and updates running in the background. If You have an inadequate data Plan and want control across the data, Make your connection as a Metered Connection. It Quits all the other activities are will be working in the background, and allows you to use your internet Placidly.
How to Enable Metered Connection On Windows 8, 10 & Above?
If You want to Activate Metered connection on Your Wi-Fi connection then Follow the Steps.
Step #1:
Click on the Wifi icon settled at Bottom right in the taskbar of Windows 8, 10 & Above. As issued below:
Step #2:
Now Choose your connected wifi connection and click on Properties to open all the Configuration of Your connected Wifi connection: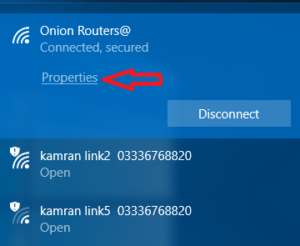 Step #3:
Now Scroll Down to the Metered Connection Option. By default it is disabled, and you can directly enable it by rolling the allow option:
By using the above technique, Your connection will switch into the metered connection which plausibly reduces less amount of your data and does not enable the Applications to be updated.
FAQ: https://support.microsoft.com/en-us/help/17452/windows-metered-internet-connections-faq